A treadmill is an exercise machine with a moving conveyor belt enabling the user to walk, jog or run whilst remaining more or less stationary by matching your speed with the speed of the belt, adjusted via controls on the machine. This situation is reversed on the least expensive machines where, as there is no motor, you generate the power by starting to walk or run and the machine keeps up with you.
Sometimes, depending on the sophistication and cost of the treadmill, the angle can also be adjusted for you to approximate the feeling of going uphill.
Treadmills aren't a bad starting point for many, as everyone who isn't physically disabled can at least walk, and even walking regularly can significantly help reduce the chance of illnesses such as heart disease, diabetes, some cancers and numerous others. Walking, however, does not use up many calories per hour, and you'll need eventually to up the pace and start jogging a bit.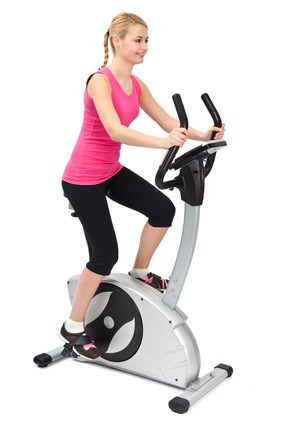 Exercise bikes are possibly the no.1 choice for many people exercising at home because there are so many options, which is a good thing but it can be confusing if you're not familiar with them. You can read a comparison of the different types on Which type of exercise bike should I buy?
One of the benefits that they all have in common, compared to a treadmill, is that there is very little impact on the joints. Because most people can ride a bike (though you don't have to be able to, as they're stationary and won't topple over), it's the next most familiar activity after walking and running (and, frankly, I know a few people who aren't that familiar with running!)
As you generally do this exercise sitting down, many people also find it easier to motivate themselves to use the bike. It's also usually quieter, as there is no pounding of feet, and you can often use it while watching television.
Like exercise bikes, cross trainers (sometimes just referred to as "ellipticals"), are also a good low impact exercise. On these machines, you stand and the rotational movement is linked to a forward and back seesaw motion of the handles. Some machines have both static as well as moveable arms. When using the moving arms, the amount of effort you put into pulling and pushing is up to you, but it means that your upper body as well as lower body gets exercise.
It helps therefore with strength training as well as cardio training. Calorie wise, as it's a slower motion than cycling or jogging, you may not use as many if you only use your legs, but if you use both at the same time, it increases the work you're doing and burning calories is all about work.
By varying the effort you put in with your arms and your legs you can shift the balance of effort.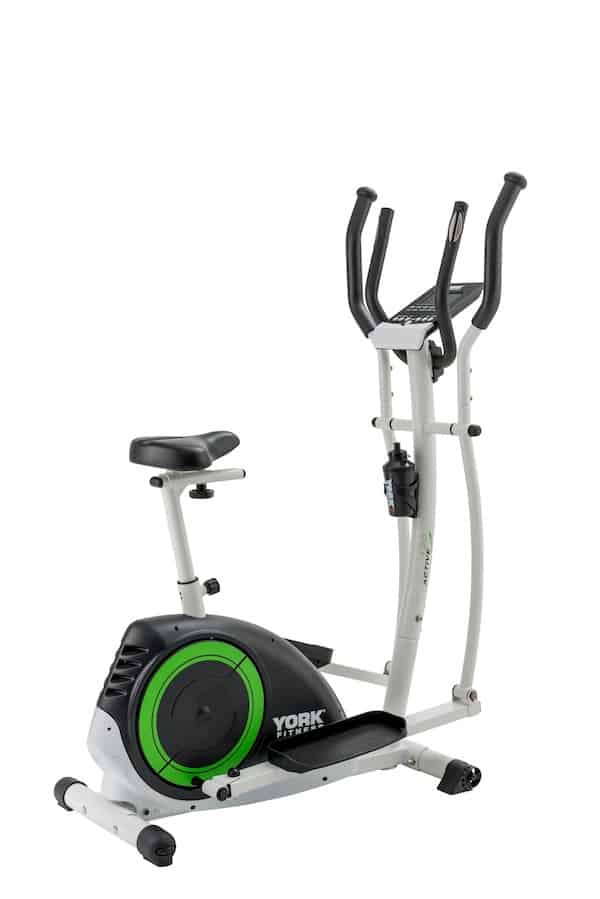 One very popular solution is to combine both a cross trainer and an exercise bike into a single machine. Because the pedals of an elliptical machine have a similar action to those of a bike, the addition of a seat to an elliptical can turn it into a useable bike. There are slight compromises to both. It works better as a cross trainer as long as the seat doesn't get in the way – you can slide it back a little if it does. As a bike, the pedals are the biggest difference and feel large at first but, in my experience, once you get going and start concentrating on your target, or not think about it and watch tv, you forget about them.
All in all, for many (including me – my first machine was a 2-in-1), the benefits far outweigh the compromises.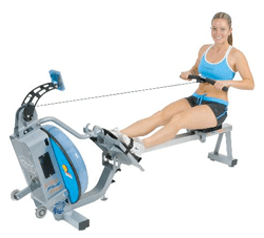 Like cross trainers, rowing machines will give you a really good full body workout, utilising all of the main muscle groups. The calorific use for rowing machines is comparable with a treadmill or exercise bike for a similar intensity, so it's also good for weight loss.
Like treadmills, their length in use means they can take up a fair amount of space, but there are also some models which will fold up, usually in such a way that the rail points vertically. Because rowing is not a natural movement, the correct technique needs to be learned, both for reasons of efficiency and for safety.