What's the best Spin Bike?
If you want to challenge yourself with an effective workout which can approximate more closely a good ride on a road bike, a spin bike is arguably the best choice. You can read more about benefits of a spinning bike here and the difference between a spin bike and an upright exercise bike here. But if you've already decided it's what you want, you'll be wondering what's the best spin bike to buy.
So having decided to buy a spin bike, which one should you get?
As usual, it depends largely on your budget. The lower end Spin bikes can be a little dearer than lower end upright exercise bikes; beyond that the prices climb into the thousands but there is something decent in all ranges and I have selected some of the best-selling and high-reviewed ones for comparison. Once you've decided which to go for, just click on the model.
What to look for in a Spin bike?
Flywheel weight
Build quality
Technology: Does it display workout information, heart-rate data, or interact with other technologies?
At the time of writing this is the no.1 best selling spinning bike on Amazon.co.uk. The XS Sports has a powder-coated, heavy duty frame, weighing 35Kg and with a max. user weight of 125Kg. 
It has built-in wheels on the front to help with moving it around. For the budget choice, it has a pretty good feature set.
In general, the heavier the flywheel the better, but THE XS Sports Aerobic Bike has a respectable 15Kg weight flywheel should be enough for a pretty smooth feel via a two-way chain-driven system. 
The friction pad resistance is fully adjustable to your requirements. For comfort, the deep padded seats also adjustable upwards, downwards, forward and and back, and for tilt.
The handlebars can be also adjusted up and down and have elbow rests for a 'racing' position. Also on the handlebars are the pulse sensors which feed your heart rate to the display, which also shows Time, Distance, Speed and Calories, plus a Scan mode, alternating between the different readouts. The pedal cranks are the 3 piece type. The latest model now has the ability to pedal in both directions and there is an Emergency Stop lever, for safety. The pedals are fitted with adjustable straps.
Max User weight: 125kg
Flywheel: 15Kg
Console Display: Time, Speed, Distance, Pulse, Calories, and Scan
Water bottle holder
2-way Chain Drive
Dimensions: 112 x 48 x 105 cm;
Weight:  35 Kg
To buy the XS Sports Aerobic Indoor Training Exercise Bike, click the button below.
Spin Bikes between £250 - £500
Upper Price Upright Exercise Bikes - over £300
Smooth and quiet due to belt drive, non-touch magnetic resistance.
The LCD Display will track and record your exercise time, speed, distance, calories, and pulse (via hand sensors on the handles) so that you can know your progress and adjust your exercise plan in time. 
Anti-Slip aluminium alloy pedals are have adjustable toe cages

Emergency Stop brake
6-way adjustable seat
Soft, Adjustable handlebars
Transport rollers

Supports up to 330lbs,

 Front foot tube

Trustworthy Warranty

This exercise bike comes with installation tools. Please pay attention to the pedal assembling, the left pedal needs to be screwed in counter-clockwise.
Net weight: 21Kg
Dimensions: H 110cm x L 85cm x W 45cm
Schwinn Airdyne AD2 Dual Action Air Cycle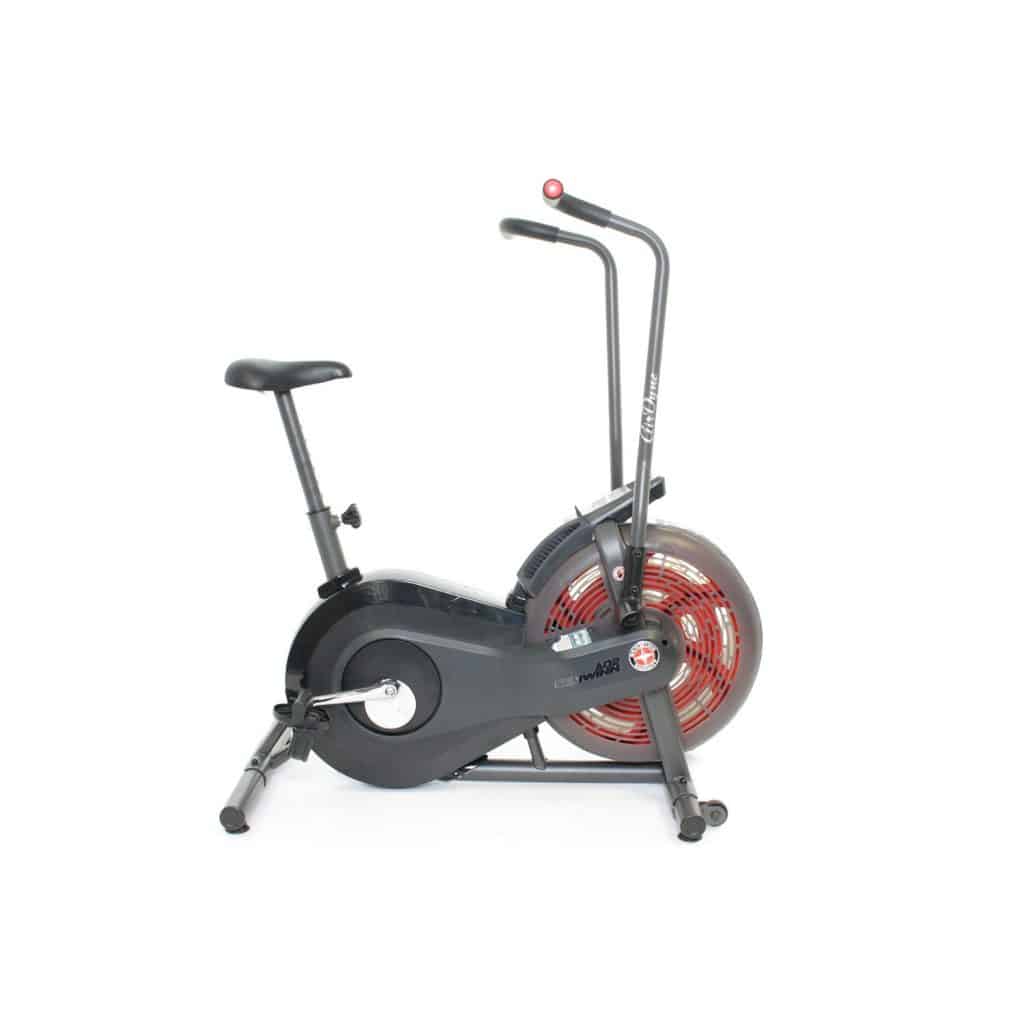 Airdyne is a unique resistance system designed by Schwinn which uses air instead of magnets to provide the resistance.
As the resistance is automatically increased with faster pedal speeds, it avoids the need for a separate knob and, effectively, provides an unlimited number of resistance levels.
It is therefore suitable for all fitness levels from beginner up to and including professional athlete. You won't need to upgrade as you get fitter.
The Schwinn Airdyne AD2 has handles which move together with the pedals These can provide an upper body workout as well as one for your legs.
Although it is only ti be used seated, for an upper body workout only, you can move your feet to the static footpegs and use only the handles.
You can track your progress via the BioConnect® Feedback technology screen where you can monitor
Speed
Time
Distance
RPM, and 
Calories used
Air flow from the unique, quieter fan provides a comfortable, cooling effect
Foot rest pegs allows a user to concentrate on upper body exercises
Synchronized arm and leg motion simulates natural human movement
Patent-pending fan design displaces air effectively for an infinite number of resistance levels
Transport wheels enables quick and easy storage between rides
Power Requirements – 2 AA batteries
Dimensions:

 46″L x 25″W x 50″H (117 x 64 x 127 cm)

Machine weight: 96 lbs (44 kg)
Max user weight: 250 lbs (113 kg)
Warranty
Home Use – 2 years parts & labour.
Life Fitness is a brand synonymous with machines in commercial gyms – and hence is of the highest quality, designed for heavy use from a wide variety of people of all shapes and sizes and you can now get this level of quality  for your own home gym.
This model is referred to as the HOME Edition; Lifecycle say that this consumer version is identical in build quality and performance to the Commercial Edition but comes with a separate safety lock and revised instructions.
For quiet use the GX uses a multi-ribbed belt drive. For comfort, it features and ergonomically designed handlebars and seat which have a wide range of adjustment for users of all shapes and sizes.
The seat has a cut-out providing air flow. There is an option of a wide seat available. The dual water bottle holders can also be used as digital device holders. The pedals are dual-sided SPD pedals.
It features a backlit console to track your workout. There is also an optional touch screen computer displaying Speed, Distance, Cadence, Calories, Heart Rate and Resistance level.
Robotically welded steel frame

Dimensions (LxWxH): 139 x 59 x 101 cm (

54.6 in x 23 in x 39.5 in)

Product weight: 51kg (111 lbs)

Optional computer displays: Time, Distance, Resistance and Heart rate
Multi-ribbed belt drive
To buy the Life Fitness Lifecycle GX Exercise Bike with LCD console – HOME Edition, click the button below
Buying a spin bike is like buying other exercise bikes – there are bound to be differences as you go up the price scale.
But, whereas that usually translates to more gadgets, this is not the case here where the most expensive machines are just belt very solidly. 
And that's the thing about spinning bikes – their main job is to give you a really good workout but, whatever your budget, you'll find something here that does just that.
(adsbygoogle = window.adsbygoogle || []).push({});