What's the best vibration plate for home use?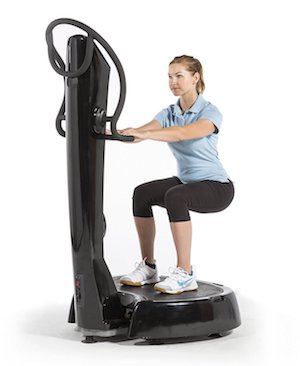 While there is a range of prices from less than £100 to over £1000, they are not evenly spread. In fact, a quick look at the bestselling Vibration machines on Amazon, for example, you will see that most of them are in the range of £130 to £170.
This may or may not fit with your budget but, whatever you have to spend, I'll try to give you some guidance in finding the best vibration plate for you.
One observation to note is that, while commercial gyms will usually have expensive pro-quality vibration plates, the machines often seen in salons often do not seem to be much (or any) better than the inexpensive models shown below.
So we'll have a look at some of those, together with what you can get for under £100 and what a lot more money gets you.
There are also some machines which are small platforms only – without handles, so we'll have a look at some of those too.
If you haven't already done so, you should read this guide to what vibration plates do and also what health benefits vibration plates can bring.  It explains the difefrence between the types of vibration, for example.
Judging by Amazon Customer Qs & As, there is a high degree of misunderstanding on that point.
As a rule of thumb, if the machine is not too expensive and it doesn't specify which type of vibration, it is highly likely to be the oscillating type, not the vertical type.
N.B. The classifications (mid-price etc.) refer to vibration plates for the home user and ignores the very high prices of professional machines.
The fact that these vibration plates are portable and can be hidden away when not in use, has made them now the most popular type of vibration platform.
If you haven't got the space for a full-size machine (and vibration plates don't tend to fold up the way some exercise bikes or treadmills do), you might want to look at these, which have slightly smaller platforms and a smaller display but doesn't have the tall pillar with handles. They can, however, still pack a punch in terms of what they offer.
Mini Vibration Plates – £100-£250
Top of the hill in this range is this:
This gives 2500W peak output providing 180 incremental speed settings and 5 built-in programs. The first three are aimed at fat loss, with the other two aimed at toning and reducing cellulite.
It weighs a substantial 16kg, so you still need to be careful when lifting it to move it, and has a maximum user weight of 150 Kg.
The Bluefin has a bluetooth speaker which you can use if your mp3 player (or phone etc.) has Bluetooth connectivity.
This machine, too, comes with a remote control  to control vibration type, intensity, program and time. There is also a workout poster. 
This model uses an oscillating vibration (like a see-saw, pivoted in the middle) and the oscillation range is 30-45Hz.
Official dimensions are not provided but although, oddly, user accounts vary, the largest size given is:- Height: 22cm | Width: 60 cm | Depth: 50cm
The Bluefin NOW COMES WITH A FULL LIFETIME WARRANTY, so you can be confident of its quality and you won't have to shell out to have it repaired.
To buy the Bluefin (mini) Vibration Plate, please click below:
This is an upgrade from the Ultra Slim 1000. It is essentially the with the addition of another motor bringing true vertical vibration, considered by many experts to be the most effective vibration type for general fitness and increasing muscle mass.
This is as well as the oscillating vibration provided by the Ultra Slim. The 3D also has the ability to combine both at the same time in what Bluefin call 3D motion.
With this, it is claimed that you can lose weight, reduce cellulite, increase bone density, improve blood circulation and increase muscle all at the same time.
Of course it still has all the functionality of its cheaper counterpart such as integrated bluetooth speakers etc.
Mid-Price Vibration Plates £250-£500
Initially, having a smaller vibration plates, minus a column, was a way of making a cheaper machine, but things have moved on and these machines now dominate the mid-range price category.
The big claim to fame for the JTX Slim-Fit: Home Vibration Plate (aka. JTX 6000), is that it offers true tri-plane vibrations – up-down; side-to-side; front to back; which provides true Whole Body Vibration and is considered far more effective than the oscillating (see-saw) motion offered by most cheaper models.
This is the type of action used on the high-end models, the JTX Pro-10 and Pro-50 (see below), Click for more information on vibration types.
Having bought the JTX Pro-10 some years ago, I'm a big fan on the tri-plane motion and I do think it's worth the difference in price over cheaper vibration machines.
The JTX Slim-Fit  offers 4 speed settings between 35 – 50 Hz, with an amplitude of 1.5 – 1.8 mm. This is somewhat less than the Pro-10 but I suspect that this would suit some people who might find the latter a bit severe. There are 3 workout programs, controllable by a hand held remote control handset.
It's no lightweight, at 20Kg and a max user weight of 120 Kg (nearly 19 stone).  The Slim-Fit also offers peace-of-mind if it goes wrong in the form of  a 2-year in-home repair and full service warranty including parts and labour.
The platform measures 68cm wide c 58cm deep and 16cm high.
The Slim-Fit also comes with a pair of power-straps and a useful workout DVD and poster.
If you want the benefits of true tri-plane (including the all-important vertical) vibration for a fraction of the cost of the full-size vibration machines, this looks like a real bargain.
A couple of Q&As provides some additional information:
JTX say it's their quietest machine, so you should be able to improve your fitness when watching your favourite TV programme, instead of slouching on the sofa.
There is some confusion about assembly:
The description says "No assembly necessary" but in answer to a consumer question: "Does it come ready built?",  JTX reply as follows:
"The machine comes in 2 boxes but you do need to complete the assembly yourself. We provide a detailed pictured step by step manual to follow which takes approximately 20 mins to complete. Delivery is with 2 men into the room of choice for you. Any further questions please give us a call".
To buy the JTX Slim-Fit: Home Vibration Plate, click below:
Another good example of a quality mid-price vibration plate is this Test-winner:
It is labelled as Test winner (on a German website) and is new in 2017 so hasn't acquired many reviews but it does have a better feature set than you will find on the cheaper vibration plates.
Firstly, it has 2 motors, each 200W, making 400W total power, but keeps a noise level below 55 dB (supposedly quieter than the silent dishwasher from Bosch)
The two motors provide multi-directional vibration.
what they call 3D spiral vibration technology. In practice, one is an elliptical vibration pattern across the width (longer dimension), with oscillations between 3 – 10Hz, and
the other is an oscillating motion pivoting across the middle of the shorter dimension of 5 – 15Hz.
It boasts 120 intensity level, split as 60 in horizontal and vertical dimensions.
Having more sophisticated vibration simultaneously challenges a bigger combination of muscles and higher intensity increases the effects and the benefits of vibration training.
There are 4 pre-programmed interval workouts which run through different speed levels.
In Use
Extra features which make the whole experience better include
Larger platform – the dimensions are 800 x 400 mm, with a height of 150mm
This makes it more reassuring to stand on, easier to do exercises on and, for those exercises which include lying on it, more comfortable.
Easy to use Touch Display
A built-in speaker and bluetooth compatibility for streaming music from your phone, tablet, iPod or other device.
Resistance bands are included to extend workout possibilities
Compact clip remote control (but batteries are not included, so have some available if you want to use the remote control).
Workout plan included.
Other specs
The VP300 weighs in at 23kg
Max. user weight: 120 KG
5-year warranty
To buy the Sportstech professional vibration plate VP300, click the button below:
Full size Budget Vibration Machines
There are far more vibration plates in this price range than any other so it is to be expected that there are a number of contenders but we've selected two full size and one platform-only machine.
Full size Budget Vibration Machines  £100-£200
As with the mini equivalent, the Bluefin is extremely popular.
This drives180 speed levels of oscillation which you can change incrementally, or alternatively, use one of the 3 automatic workout programs, designed for toning and weight loss.
The Bluefin (formerly Crazy Fitness) vibration machine is fairly quick to assemble and, usefully, it has built-in speakers to which you can connect an mp3 player.
It also has attached cords for arm exercises and a handy exercise poster to give you an idea of exercises you can do.
The full height handles mean that exercises whilst lying on the plate are tricky unless your body can fit between the handles!
But it's mainly designed for standing use with weight loss and toning in mind.
The popularity of this machine means that it has enough user reviews to make them a realistic indicator of satisfaction, and the high rating shows that most users are very satisfied with their purchase.
It has a maximum user weight of 150kg and the dimensions are:
Width : 27 inches | Depth: 24 inches | Height: 48 inches.
Boxed Product Weight: 31Kg
To buy the Bluefin Vibration Plate, please click below.
This Gadget vibration trainer has greater-than-4 star-rating from over 600 reviews, which is a good sign. It certainly looks the part, with platform measuring 80cm x 72cm, with the overall height at 120cm.
The large elegant display shows Program selection, Time/Pulse and Speed. It has 3 built in programs and has 50 incremental speed settings from a 600W motor.
The weight of the Gadget Fit is 28Kg, with a maximum user weight of 120Kg
To buy the Gadget ZAAP TX-5000 Power Vibration Plate, please click below
Best quality Vibration Plates - over £1000
There's a bit of price jump to the next machine, but what you get is a professional health club quality machine designed for home use. As such, it actually provides very good value for money.
The platform is a little smaller than the Pro-50 but still larger than most home vibration plates and more than adequate in my experience. [Yes, this is the machine we have at home].
The most important aspect when we're talking about vibration trainers is what kind of vibration they offer – the cheaper models are usually the oscillating variety; further up the scale you get a combination of oscillation with another horizontal oscillation.
The type generally regarded by experts as being the most beneficial is 'vertical' oscillation, but this is harder (and more expensive) to achieve. The JTX Pro-10 offers Tri-Plane oscillation which involves true vertical oscillation combined with horizontal vibration in both planes – front to back and side-to-side.
(i.e. Those users on Amazon who answered 'Yes' to the question about whether the Pro-10 provides oscillation vibration are wrong. It is much better than that.)
For an explanation of the different types of vibration, see 'What vibration plates do'.
The tri-plane vibrations together with the powerful 30-50Hz movement and the ability to switch the amplitude between 2mm and 4mm enables an intense workout which can provide the equivalent of an hour long full body workout in just 15 minutes!
Space efficient design maximises the platform area. As a number of possible exercises (e.g. push-ups) involve using the platform from a low level where you are unable to reach the top control panel, the Pro-10 has an additional control panel and display just above the platform.
Size: 157(h) x 78(w) x 106(d)cm. Platform size: 78 x 70 cm.
Maximum user weight 160kg.
The weight of the JTX Pro 10 is 78kg.
Extras
Free Vibration plate training DVD
Workout poster
Personal trainer vibration training phone support
Comfort exercise mat
Noise reduction mat
Power straps.
3 Year JTX Fitness warranty including in home repair and the costs of all labour and parts.
Recommendation
The JTX Pro-10 provides all of the multiple benefits that vibration training provides, whether that is for weight-loss, toning, flexibility, rehabilitation or whatever.
For us the main reason for getting one was my wife's desire to help reduce the onset of osteoporosis.
For that, price wasn't so important as far as she was concerned. If it helped prevent broken vertebrae (from which her mother had suffered), she wasn't going to skimp on price – and the JTX Pro-10 (albeit an earlier version than this) was the one we chose.
Several years later, we are still delighted with it and I can't give a better recommendation than that.
To buy the JTX Pro-10, click the button below:
If you want the best home vibration plate, need a large platform and are prepared to pay well over £2000, then this is the one to get.
The main difference between the Pro-50 and the Pro-10 is the large size of the platform: 83cm x 70cm. (To save you scrolling up, the Pro-10's is 78 x 70cm).
Other than, its main feature, like the Pro-10 is, as suggested by the title, is that the vibration occurs in all three planes, which obviously includes vertical.
As mentioned above in relation to the Pro-10, vertical vibration is thought to be more intensive and therefore more effective than the other types but it is more difficult to produce, which is why it is generally offered by the more expensive machines.
It does not provide the see-saw type oscillation that most cheaper machines provide. The amplitude is therefore lower but vibrations are true 'buzzing' vibrations rather than the wobble you get with the oscillating type.
In fact there are 2 amplitude settings, labelled Low and High, which feel very different from one another.
Also, like the Pro-10, the speeds of the vibrations range from 30Hz – 50Hz. That means the plate is vibrating between 30 and 50 times per second.
Combining high speed vibrations with the High amplitude setting will give advanced users a very high intensity workout, while a lower speed and Low amplitude is good for stretching and relaxation.
There are time settings from 30-180 seconds. 
There are also 7 easy to follow exercise programs built in.
One of the benefits of having vibration in different planes is that it allows for a greater range of exercise which can benefit from the vibrations.
Exercises, such as push-ups or pilates-type exercises, which you would normally do on a mat on the floor, will be more effective when done on the vibration plate. 
For this reason, the handles do not go down to the plate to allow more space on the plate for the various exercises.
To that end also, the Pro-50's large plate is very convenient. There is a secondary display and control panel just above the plate.
The overall dimensions are:
Width: 90cm | Depth: 100cm | Height: 164cm
To see some of the advanced exercises which can be done on the Pro-JTX 50, see the video below.
Delivery, Warranty and After Sales
As you would imagine the Pro-50 is very heavy with a boxed weight of 108 Kg. For delivery, JTX will send two men who will place it in a ground floor room. If you want it in an upstairs room, you'll have to get Arnie to bring a couple of his mates around.
There is a 28-day, no-quiblle, money back guarantee. If you decide you don't want it JTX will collect the Pr0-50 free of charge and give you a refund. (You need to keep the original packaging to take advantage of this offer.)
The Pro-50 also comes with a 3-year home-use warranty. If the machine goes wrong, JTX will send someone, at your convenience to fix it, with the warranty covering all work and parts. (Note the words 'home-use'. If you want to buy this machine for a commercial establishment, you'll have to contact JTX to discuss it).
To get you started, JTX offers  new customers a free personalised training plan from an in-house Personal Trainer.
If you'd like to buy the JTX Pro-50, click the button below.
Buying a Vibration Trainer? – You may also consider these:
Conclusion - Which vibration plate should you buy?
Vibration trainers are a great addition to a home gym as they can increase the intensity of your workout and therefore shorten it.
They also have other benefits, such as recuperation from surgery or helping improve and sustain bone-density and stem the onset of osteoporosis.
I had a problem with my knees feeling weak so if I bent them and sat on my haunches, I had trouble standing up again.
A series of workouts on the vibration trainer, gradually bending my knees incrementally and I can now do a traditional Russian dance! Ok, slight exaggeration.
But which one you buy depends, of course, on what you want from it, your available space and available funds.
I hope this guide has helped you find the best vibration plate for you. Whether it's a relatively economical oscillating device which can be fine for helping toning and weight-loss (in conjunction with an appropriate diet), to the commercial standard Tri-Plane Pro-50 – suitable for anyone from the slightly overweight to elite athletes – all of the machines listed above have strong positive feedback from users so, in a way, you probably can't go too far wrong.