What's the best vibration plate for home use?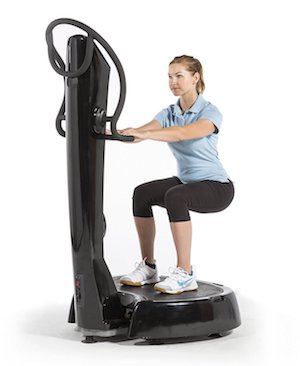 While there is a range of prices from less than £100 to over £1000, they are not evenly spread. In fact, a quick look at the bestselling Vibration machines on Amazon, for example, you will see that most of them are under £250.
Whatever you have to spend, here's some guidance in finding the best vibration plate for you.
If you haven't already done so, you should read this guide to what vibration plates do and also what health benefits vibration plates can bring. 
Judging by Amazon Customer Qs & As, there is a high degree of misunderstanding on that point.
As a rule of thumb, if the machine is not too expensive and it doesn't specify which type of vibration, it is highly likely to be the oscillating type, not the vertical type.
N.B. The classifications (mid-price etc.) refer to vibration plates for the home user and ignores the very high prices of professional machines.
The fact that these vibration plates are portable and can be hidden away when not in use, has made them now the most popular type of vibration platform.
If you haven't got the space for a full-size machine (and vibration plates don't tend to fold up the way some exercise bikes or treadmills do), you might want to look at these, which have slightly smaller platforms and a smaller display but doesn't have the tall pillar with handles. They can, however, still pack a punch in terms of what they offer.
Mini Vibration Plates - £100-£250
Features include:
Built-in USB and Bluetooth music player

Programmes:
199 levels with 5 built-in weight loss and conditioning
Comes with remote control, pair of resistance exercise ropes

Maximum User Weight:150kg

Quiet running
Product size: 53cm / 21″ x 25cm / 10in x 12cm / 4.7in
This is, by far, the most popular vibration platform on Amazon and is the mini equivalent of the full size Bluefin machine shown below.
It has a silent 'vibe' drive motor providing vibration massage and oscillation functions. 
The Bluefin has 180 incremental speed settings and 5 built-in programs. The first three are aimed at fat loss, with the other two aimed at toning and reducing cellulite.
It weighs a substantial 15kg, so you still need to be careful when lifting it to move it, and has a maximum user weight of 150 Kg.
The Bluefin has a bluetooth speaker which you can use if your mp3 player (or phone etc.) has Bluetooth connectivity.
Resistance cords are also included along with a workout poster and nutrition guide.
This slightly earlier model I bought had an oscillating motion as shown in the video though. confusingly, some of the photos say it has a linear vertical motion.
Dimensions are:
Height: 15cm / 5.9in
Width: 68cm / 26.8″
Depth: 40cm / 15.7″
The Bluefin NOW COMES WITH A FULL LIFETIME WARRANTY, so you can be confident of its quality and you won't have to shell out to have it repaired.
This is an upgrade from the Ultra Slim 1000. It is essentially the with the addition of another motor bringing true vertical vibration, considered by many experts to be the most effective vibration type for general fitness and increasing muscle mass.
This is as well as the oscillating vibration provided by the Ultra Slim. The 3D also has the ability to combine both at the same time in what Bluefin call 3D motion.
With this, it is claimed that you can lose weight, reduce cellulite, increase bone density, improve blood circulation and increase muscle all at the same time.
Of course it still has all the functionality of its cheaper counterpart such as integrated bluetooth speakers etc.
Mid-Price Vibration Plates £250-£500
Initially, having a smaller vibration plates, minus a column, was a way of making a cheaper machine, but things have moved on and these machines now dominate the mid-range price category.
Just 10 minutes on your fitness plate is sufficient for a full 4D workout.
Reflexology-type foot massage as well as fitness workout.

Magnetic bead therapy via micro-oscillators

Stimulate feet and leg blood flow circulation and soothe tired muscles. 

Curved surface for comfortable & safe, non-skid contact.

Ultra bright Red, Orange and Green LEDs tell you, at a glance, how intense your plate is working 

Intelligent workout Options:

3 carefully designed program options and

7 challenging manual combinations. 

Easy to use control panel & settings

Ergonomic + wearable remote control,

Bluetooth 4.0 speakers for crisp & clear sound
As with the previous models, the 4D comes with workout sheet, , nutrition guide and resistance cords.
Full size Vibration Machines
Whether it is a temporary measure under the current situation or a more long-term situation is unknown but the more expensive machines seem to be unavailable at present.
2 budget machines are listed below.
2000W motor (providing 3900W Peak output)

10 workout programs

and 180 intensity levels from Bluefin's Silent  drive motors

Display shows

Mode
Calories / BMI
Pulse
Speed
Time

360º Hip rotation

Powerful bluetooth speakers,

Diet & Nutrition guides created by vibration fitness experts,

resistance cables
Conclusion - Which vibration plate should you buy?
Vibration trainers are a great addition to a home gym as they can increase the intensity of your workout and therefore shorten it.
They also have other benefits, such as recuperation from surgery or helping improve and sustain bone-density and stem the onset of osteoporosis.
I had a problem with my knees feeling weak so if I bent them and sat on my haunches, I had trouble standing up again.
A series of workouts on the vibration trainer, gradually bending my knees incrementally and I can now do a traditional Russian dance! Ok, slight exaggeration.
But which one you buy depends, of course, on what you want from it, your available space and available funds.
I hope this guide has helped you find the best vibration plate for you. Whether it's a relatively economical oscillating device which can be fine for helping toning and weight-loss (in conjunction with an appropriate diet), to the commercial standard Tri-Plane Pro-50 – suitable for anyone from the slightly overweight to elite athletes – all of the machines listed above have strong positive feedback from users so, in a way, you probably can't go too far wrong.