Which exercise bike should I buy?
A guide to the finding which type of exercise bike you should choose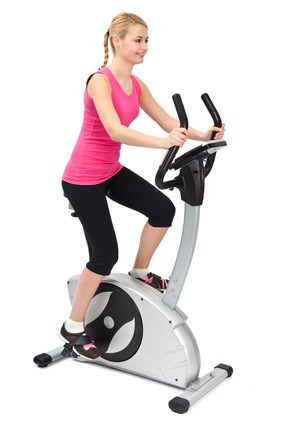 There is now a confusingly large range of exercise bikes available. So you may be wondering what the differences are? And, more importantly, which type of exercise bike is best for you, you purpose and your circumstances?
Below you'll find a description of the different types with an example of one of the most popular models at the time of writing (November 2015). Hover over the image for details and up-to-date price.
The two main types are based on seating position, with other variants on how they work:
The layout, which affects how you sit
The method of resistance used.
The most basic question is whether you want to sit as you do on a traditional bicycle, with the pedals vertically below, or sit in a reclined position with the pedals in front of you.
If you're used to a normal bike, you'll probably prefer an upright type, which probably gives a harder workout than a recumbent type, but is less comfortable for some people.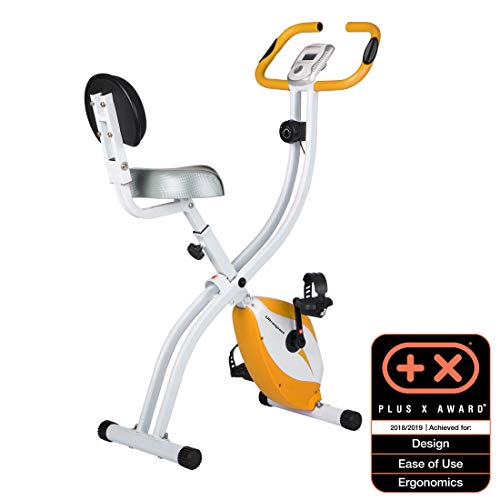 e.g.  Ultrasport F-Bike 200B Exercise Bike
This is one of the most popular but to help decide which is the best upright exercise bike for you, click here
Spinning bikes are a special type of upright bike in which a flywheel is used so the pedals will continue rotating if you stop pedalling, so you can't 'freewheel' like you can on a normal road  bike or traditional exercise bike. This tends to produce a higher intensity workout than ordinary upright exercise bikes. They often use an air-based method of resistance so the harder you pedal, the resistance level is automatically increased. This type of bike arguably provides the toughest workout.
e.g.  XS Sports Aerobic Indoor Training Exercise Bike
If you suffer from back problems, or knee problems, or find sitting on an upright bike uncomfortable, you may prefer the recumbent or semi recumbent type.
The sitting position of recumbent bikes is similar to sitting in a chair, with both arms and legs in front of you. Recumbent bikes are also useful for people who are very overweight or who are recovery from injury.
What's the difference between recumbent and semi-recumbent:
In theory, with recumbent bikes, the seating position is more reclined (like a lounger) whereas with semi-recumbent it's more upright (like a chair). In practice, the distinction sometimes seems a little blurred as far as exercise bikes go.
e.g.  JLL® Home Recumbent Exercise Bike RE100

If time or expense is even more of an issue than it is for most people, you could try one of these. It consists, essentially, of the pedal part of an exercise bike which you can use from any normal chair, such as a desk chair, so you can use it while working, or even a comfortable reclining chair or sofa, so you can use it while relaxing (if that's not a contradiction!) It is a simpler mechanism and hence a lot cheaper.
e.g. Ultrasport Mini Bike, Arm and Leg Trainer, Minibike, MB 50
Not really a type of exercise bike in the same sense but worth mentioning is the multi-purpose exercise bike combined with, usually, a cross trainer.
e.g.  York Fitness Active 120 2-in-1 Cycle Cross Trainer

Resistance method 
The way the bike provides an adjustable resistance to your pedalling falls into 3 categories:
Mechanical (friction) resistance
Magnetic resistance
Air resistance
Mechanical/Friction resistance bikes
Mechanical resistance consists of pads pressing against a flywheel, much as brake pads use friction pads pressing against the wheel rim on a traditional bike. This is simple to adjust and are often used in Spinning Bikes.
Magnetic resistance bikes
Tis is the most popular type of resistance for exercise bikes. Magnets are near the flywheel slow its movement. The magnetic braking effect can be increased or reduced by adjusting the setting, which makes it easy to vary resistance levels, and they are generally quiet.
More expensive types use electro-magnets which are electrically-powered and their strength is adjustable.
e.g.  JLL IC300 PRO Indoor Cycling Exercise Bike
Air resistance bikes
Air resistance: these have fan blades and are based on the simple fact that the faster you pedal, the more resistance there is and that such resistance is exponential.
e.g.  V-fit ATC1 Air Cycle
Turbo Trainers
Serious (outdoor) cyclists sometimes prefer to use their own bicycle on a special stand, called a 'trainer' or sometimes 'turbo trainer' – really a misnomer, as there is no turbo (which would require an engine) involved whatsoever. Riders can also use them before a race to warm up.
More expensive versions exist which even allow the sideways movement of riding on the road.
e.g.  BDBikes Bike Magnetic Turbo Trainer
 Conclusion – which type of exercise bike to buy
This should give you the information you need to decide which type of exercise bike to buy.
Now, you'll want to narrow your options depending on your aims, your budget, the amount of space you have etc.
Click the links above to articles with more information on each type.